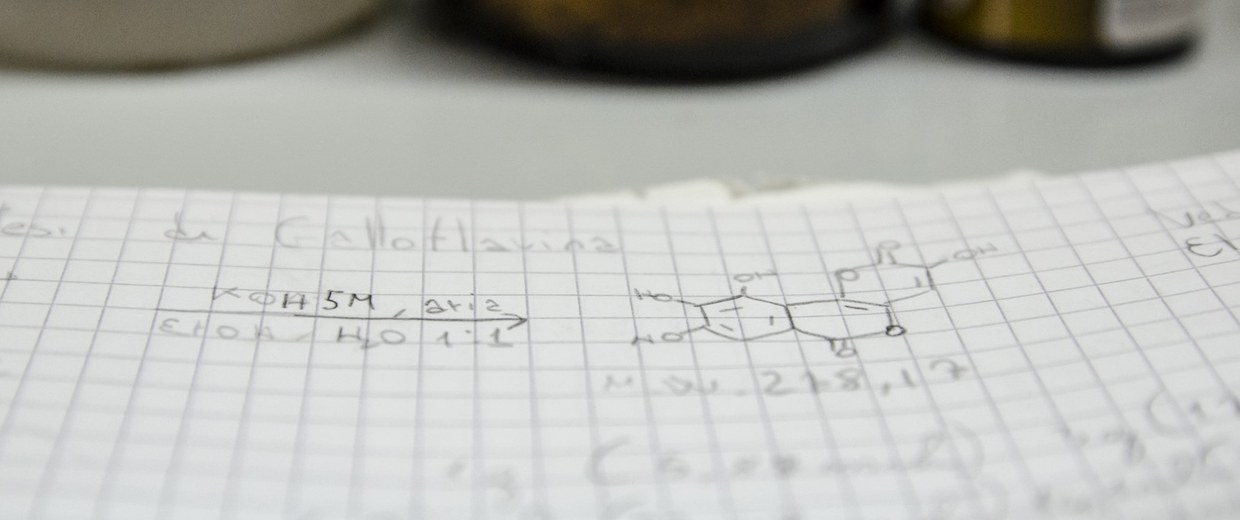 Drug discovery and development
Discovery of drug targets and developments of methods to develop, analyze and deliver novel molecules active on specific pathological and microbiological targets
This research scope covers several aspects linked to Drug Development, starting from the high-throughput prediction of molecular targets with computational chemistry and bioinformatics approaches. It further proceeds into synthetic processes by developing novel techniques of pharmaceutical synthesis and extraction from plant matter and microbiological sources.
These drugs are then biochemically tested for their specific effects in appropriate cellular models (e.g. human cell cultures or bacterial populations). Pharmacokinetics and Pharmacodynamics approaches further predict and test for the in vivo behavior of these drugs and for toxic effects.
The final goals of this research scope in our department are both the discovery of new drugs through the full understanding of their mode of action and the development of more efficient ways to develop and synthesize them.
People
keywords:
Microencapsulation, Preformulation studies and formulation development, Solvent free process technologies, Solid dosage
forms for oral and topical drug delivery, Modified drug delivery systems of active substances
Read more
keywords:
natural products, multititarget drug discovery, design and synthesis of small molecules, antineurodegenetive small
molecules, antiparasitic small molecules, anticancer small molecules
Read more
keywords:
Mitochondria, Mitochondrial electron transfer chain, Reactive Oxygen Species, Coenzyme Q10
keywords:
P-450 Cytochromes, Alzheimer disease, flavonoids, Multidrug resistance
keywords:
multitarget drug discovery, design and synthesis, neglected tropical diseases, prion diseases, Alzheimer's disease,
antiparasitic small molecules, theranostic small molecules
Read more
keywords:
viral infections, antiviral drugs, virus-cell interaction, antimicrobial compounds
keywords:
bile acid, neonatal stress, POMC, FXR, opioids
keywords:
DNA topoisomerases, R-loop and non-B DNA structures, Non-coding RNAs, Espressione genica, Transcription regulation,
Chromatin, Pharmacological activity, Cancer, Neurological diseases
Read more
keywords:
peripheral biomarkers, Alzheimer's disease, drug discovery, mood disorders, nicotine dependence
keywords:
microsampling, miniaturised pretreatment, liquid chromatography, mass spectrometry, drugs of abuse
keywords:
Bioinorganic Chemistry, Biomodelling, Biomolecular NMR spectroscopy, Metallo-chaperons, Urease, X-ray absorption
spectroscopy, Nickel, Biochemical metal trafficking, Enzymatic catalysis, Biocrystallography
Read more
keywords:
Phage, Molecular Microbiology, Helicobacter pylori, Nanobiotechnology, theranostic vector
keywords:
fluorescece spectroscopy, flow cytometry, magnesium, fluorescent dye, cell proliferation
keywords:
Parvovirus B19, Virus-cell interaction, Viral infections, Recombinant virus, Antiviral compounds
keywords:
ESBL, KPC, Plant extracts, MRSA, Bacterial biofilm
keywords:
chiral separation , validation of analytical methods , capillary electrophoresis, chromatographic analysis, sample
preparation
Read more
keywords:
Toxicity, Neuroprotection, Chemoprevention, Pharmacogenetic, Preventive medicine, Cancer, Biomarkers
keywords:
fluorescent dyes, Magnesium, Biosensors, hydroxyquinoline derivatives, Synchreotron-based x-ray microscopy, magnetic
resonance spectroscopy
Read more
keywords:
transcutaneous and transmucosal permeation, mucoadhesion, hydrogels, modified release, micro e nano carriers, \"health
promoting\" bacteria fromulation
Read more
keywords:
Bioinformatics, Transcriptomics, Gene Networks, Genomics, Oncology, Biostatistics, Radiomics
keywords:
Drugs of abuse, Anti-doping analysis, Therapeutic drug monitoring (TDM), Analysis of natural compounds, Liquid
chromatography (HPLC), Capillary electrophoresis (CE), Mass spectrometry, Biological fluids, Microsampling, Sample pretreatment, Miniaturisation, Analytical method development
Read more
keywords:
Alzheimer's disease, Bioactive compounds, Neuroprotection, Parkinson's disease, Neurodegeneration
keywords:
Mass spectrometry; Liquid chromatography; Protein characterization; Post-translational modification; Surface plasmon
resonance
Read more
keywords:
drug delivery, solid dosage forms, formulation of paediatric medicines, physicochemical properties of solid dosage
forms, innovative technologies for production of medicines, microparticle delivery systems
Read more
keywords:
medicinal plants, metabolomics,, ethnobotany, phytochemistry, biological activities, smart agriculture, Quality
controll of plant products, circular economy
Read more
keywords:
Parvovirus B19, Viral infections, Antiviral compounds
keywords:
RAD51, BRCA2, BRC4
keywords:
cancer, parallel synthesis, chemical biology, small molecules, cystic fibrosis
keywords:
Pharmaceutical Biotechnology, Preclinical Molecular Pharmacology, Oncology
keywords:
polypharmacology, multi-target-directed-ligand, neurodegenerative diseases, neglected tropical diseases
keywords:
Molecular biotechnology of phages- Development of theranostic vectors- Gene expression regulation in cancer- Molecular
basis of Neuroblastoma.
Read more
keywords:
intrinsically disordered proteins, metal-homeostasis, urease, nickel, protein-protein interactions