International mobility programme
FaBiT strongly promotes international mobility and has set up a specific Commission for Internationalization with the aim of monitoring and encouraging new exchanges for students and teaching/TA staff of the Department. Furthermore, the research laboratories of the Department welcome every year numerous incoming students who come to spend a training period and visiting scientists interested in departmental research and new opportunities for collaboration.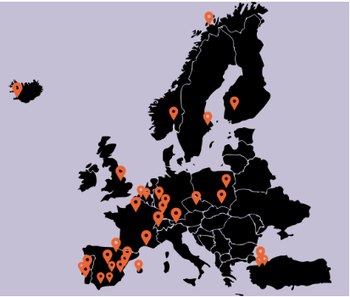 Erasmus+ Study
The Erasmus+ Study programme allows you to spend part of your university career, from two to twelve months, in another European country by attending courses and carrying out internships and experimental thesis activities.
The FaBiT offers over 80 exchanges each year receiving hundreds of questions. The Commission for Internationalization organizes meetings dedicated to the students of the Department's Study Programmes together with the administrative and teaching staff responsible for Erasmus exchanges, in order to inform about the different exchange possibilities and answer their questions. The meetings also concern the annual welcome day for incoming students.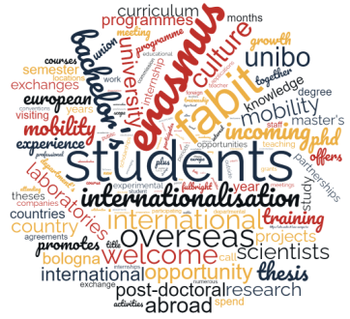 Erasmus+ Mobility for Traineeship
Erasmus+ Mobility for Traineeship is a student mobility programme promoted by the European Union published annually.
FaBiT annually offers more than 30 students the opportunity to enrich their educational and professional curriculum through work experience abroad, in any public sector company or a private commercial enterprise located in European countries that have joined the Erasmus+ Programme. There are many Unibo agreements and many agreements with public and private structures for students who want to do a thesis internship abroad.
Overseas
The Overseas call is dedicated to students who want to attend a semester or an academic year at universities in countries that are not part of the European Union. This program allows you to carry out various types of training activities such as attendance of courses as well as, in some specific locations, research for the preparation of the thesis.
Thesis abroad call announced by the Department
In addition to scholarships from the University of Bologna (Erasmus plus, Erasmus internships, etc.), departmental funds are available to support experimental thesis activities abroad (even in countries outside Europe).
FaBiT annually offers dozens of students the opportunity to carry out their experimental thesis in various research fields at numerous international locations.
The call comes out every year in February with two rounds (deadlines in March and October).