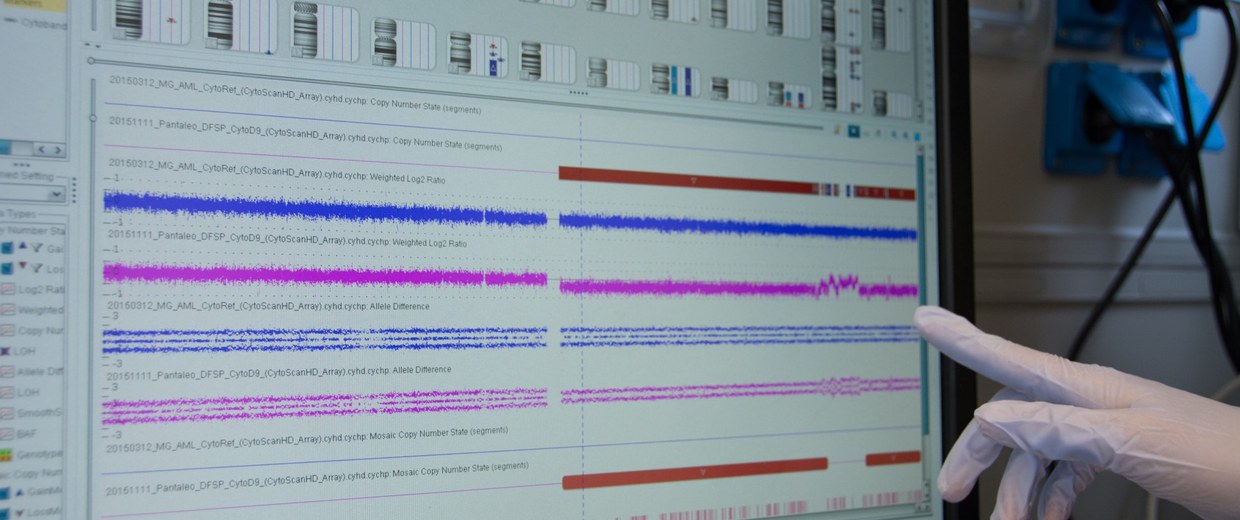 Genomics
Development of experimental and bioinformatical methods to sequence, analyze and functionally understand prokaryotic and eukaryotic genomes
This scope studies prokaryotic and eukaryotic genomes to understand their architecture and dynamic functionality. Genomics naturally extends to the study of expressed gene transcripts (Transcriptomics) and to the active chromatin modifications (Epigenomics) to unveil the mechanisms by which genomes respond to stimuli in different histological tissues and pathological conditions. Human Genomics studies somatic mutations causally linked to cancer, germline polymorphisms linked to genetic diseases and mutations cause by the exposition to external mutagens (Toxicogenomics). In prokaryotes, the department research activities focus on the study of human pathogens and of novel bacterial species able to synthesize novel molecules with industrial and pharmaceutical applications.
People
keywords:
Proteomics, Database development, Protein annotation, Gene-Disease relation, Rare diseases, Machine learning, Genomics,
Systematic Biology
Read more
keywords:
Bioinformatics, Proteomics, Machine Learning, Cancer Genomics
keywords:
Animal models of molecular mechanisms related to the onset and progression of childhood neuroblastoma, autism spectrum
diseases and neurodegenerative diseases., Drosophila melanogaster, N-MYC ONCOGENE, Multidrug Resistence Protein (MRP1/ABCC1), Genetic interaction and in vivo studies, Antileukemic drugs
Read more
keywords:
Molecular microbiology, Microbial biotechnology, Microbial genomics, Omics applied to microbiology, Enviornmental
Microbiology, Microbial biodegradation, Biomineralization, Bioconversione
Read more
keywords:
DNA topoisomerases, R-loop and non-B DNA structures, Non-coding RNAs, Espressione genica, Transcription regulation,
Chromatin, Pharmacological activity, Cancer, Neurological diseases
Read more
keywords:
autism, neurodevelopment
keywords:
Bioinformatics, Statistics, Proteomics, Programming, Deep Mutational Scanning, Genomics
keywords:
Microbiome, Metagenomics, Microbiota
keywords:
Parvovirus B19, Virus-cell interaction, Viral infections, Recombinant virus, Antiviral compounds
keywords:
Bioinformatics, Transcriptomics, Gene Networks, Plant Biology, Cancer Biology, Genomics, Biostatistics
keywords:
Bioinformatics, Transcriptomics, Gene Networks, Genomics, Oncology, Biostatistics, Radiomics
keywords:
DNA secondary structure, G4 quadruplex, genome instability, DNA damage
keywords:
bacterial pathogenesis
keywords:
Microbiome, Metagenomics, Microbiota, Microbial Evolution
keywords:
gene expression, neuropeptides, opioid peptides, neurodegeneration, addictive drugs
keywords:
Bioinformatics, DRIP-sequencng, RNA-sequencing, DNA secondary structures, G-quadrplexes, R-loop, Genome instability
keywords:
Transcriptome, Protein-DNA Interactions, Transcriptional regulation, Functional genomics, Drug discovery
keywords:
Pharmaceutical Biotechnology, Preclinical Molecular Pharmacology, Oncology
keywords:
Molecular biotechnology of phages- Development of theranostic vectors- Gene expression regulation in cancer- Molecular
basis of Neuroblastoma.
Read more